Posted By bambi on February 26, 2012
http://www.mediafire.com/?xg76xs7mpz29loz
Transcript:
Bill: Hey you is Tokio Hotel and we are calling to answer some of your fan questions…Do you believe in love between people when they are far away from each other?
Georg: Mmmm…
Tom: I think no forever. I mean no forever. I mean if they are far away from each other forever…you know, I think it's impossible. I mean, believe in love but it's not good for each other…
Bill: Yeah, but I think if you love somebody like coolest, strongest, if it's your big love…I think you can handle for a couple of months, maybe a couple of years, but it's definitely hard. I think it's hard for every relationships…
Georg: Just something like that…
Tom: I love Georg and he is most of the time in Germany and…
Georg: Ohh…
Tom: I mean I'm in LA and and it's a hard work…
Georg: Skype every day so…
Tom: Yeah, it's true…
*Laughs*
So another question is "you guys have seeing so much and travel so far away doing what you love, with any regret?
Bill: No, I don't think I have any regret, I mean, maybe, you know, of course we are making mistakes and we makes mistakes…everyone makes mistakes everyday so…I don't know, I don't think..I wouldn't like living in the past most of the time…
Tom: Maybe Georg like the bass player maybe
Georg: Ohhh…
*Laughs*
Bill: But it was a sad day in our lifes…
Georg: Ohhh…
Tom: hihihihihi
*Laughs*
Tom: We were like ten years and Georg came with cigarettes like okey guys, come on.
*laughs*
Georg: Bullshit!!!!
*Laughs*
Bill: No I just think, I just think that…yeah we are all making mistakes but I don't think that…I don't regret anything…No, I'd said no. We are calling pretty soon…
*Credit to: http://tokiohotelaliensspain.blogspot.com/*
Posted By bambi on February 26, 2012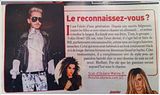 Do you recognize him?
He is the idol of a generation. After his great success all the girls are singing in German … and learning the language. He founded with his brother, Tom, the group …. Tokio Hotel! And if you've already guessed, this one here is Bill, perfectly unrecognizable, as well as without his enormous glasses. Someone you're used to seeing with a totally black look and long hair is now blond crazy bearded. In terms of clothing, style has completely changed with fading light trousers and a silk shirt knotted around his neck. But the girls still love it.