Posted By bambi on January 24, 2012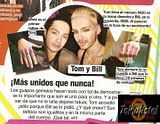 -This is the first tattoo of Tom
-Tom has the number 0620 on the right hand and Bill, on the left, 0630. Apparently it's their birth time!
-Tom always reminds Bill that he's 10 minutes older!
More united than ever!
The beautiful twins do everything to show how important they are to each other. And even though he doesn't like tattoos, Tom agreed, only because Bill asked him. What do you think? Their tattoos are the same and in the same body part. How about, eh!
Posted By bambi on November 19, 2011
Posted By bambi on July 26, 2011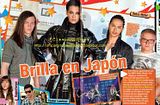 Tokio Hotel shine in Japan
the boys appeared in the MTV Video Music Aid Japan and they rocked! Bill, Tom, Georg and Gustav played in front of thousand fans some of their best songs, like Darkside of the sun and Monsoon. the best part is that they said what all their fans were waiting to hear: very soon Tokio Hotel will back to stage! we want more of their music!
Posted By bambi on July 1, 2011
Posted By bambi on June 22, 2011
Posted By bambi on April 6, 2011
Posted By bambi on March 24, 2011