Posted By bambi on July 24, 2012
Posted By bambi on July 16, 2012
Posted By bambi on July 11, 2012
Posted By bambi on July 9, 2012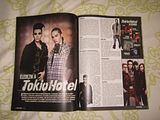 Tokio Hotel starts to wake up
Millions of fans deified and adored them. Worldwide, they sold more than 6 million records. 6 years ago, Tokio Hotel was Germany's and even Europe's most successful boy band. They also visited us [Hungary] two times. In 2006, they performed on Viva Comet, and then in 2007 they gave a concert in the Syma Hall much to the delight of the fans. Then we wrote about the event, you can read detailed experience report in Popcorn.
Worldwide success
The past years have proven that the emergence of the Magdeburger boys take out hysteria from the fans everywhere. After Europe, they recruited fans in Israel, they blasted in Japan, too, and then they focused on America. In 2008, they won the "Best New Artist" category on MTV VMA Music Awards, which were followed by more music awards from many other countries. Despite of the lot of awards and huge success, nowadays there is no news about the boys. Two years ago, they have withdrawn from the public; of course they promised that it's just a temporary situation. Apparently, they are working on their latest studio album, which can be really difficult to carry out because while Bill and Tom live in a luxury villa in Los Angeles, Georg and Gustav spend their life in Germany.
New song
Although at the first sight they haven't got well with the new common album, but it seems that Bill walks on separate ways and he sang a song, "If I Die Tomorrow" with Far East Movement's members. The song appeared on the American band's latest record in May. The other question is how much the fans like it, because many people don't like Bill's completely mechanized (or auto tuned?) voice. Tom wasn't involved in the project.
Bill's new look, the twins' father spoke to the press
We can detect that not only the singer's voice, but his look changed drastically. He replaced his long, black hair to short, grey hair, he has stubble and lot of tattoos, he wears gold necklaces around his neck, and his face is even more hollow than usual.
Maybe the freakish/eccentric singer loves diversity, but he should pay attention a bit more to the borders, because he often looks like a drug addict. Not only the fans, but his father is worried for Bill, however it seems that the twins don't appreciate their father's care. It caused big storm and indignation the letter which appeared in the German newspaper, Bill, and the twins addressed it to their father, Jörg. Bill and Tom are prepared their testament, and they want to deny their father from it and instead they offered him 6.000 euro in exchange if Jörg never speak about their common past any more.
"When I read the letter, a part of me died. They speak with me like a stranger. I don't deserve it", said Jörg. It's now known what made the boys suddenly to do this step. According to their father, they didn't make this decision on their own, he thinks that, their mother, Simone influences them, and it turned out, she lives with the boys at their home in Los Angeles. The twins were 7 years old, when their parents divorced and although they were hard bitten from the dissolution of the family, their father didn't leave them alone. They went often together for vacation, and he paid properly the child support. Even so, Bill and Tom met last with their father in 2009. According to Jörg, Tokio Hotel totally destroyed the family and his children psychologically. Others say that the whole hype is about money, the father has never spoken to the press previously, now when they want to deny him, why he does this? On the other hand, why the TH twins made testament at the age of 22??
Come back
After a 2 years long break, firstly Bill appeared again in front of the German public in April, when Heidi Klum invited him to the "Germany's Next Topmodel"'s new season as a guest, for the much to the delight of the fans. After 2 years, it was the first time when the younger Kaulitz show sign of life about himself in his home country. Bill had a role because he had to exercise with the girl the stage diving.
Tom in love?
Meanwhile, Tom spends his time with his beauty queen girlfriend, Ria Sommerfeld. The couple are together about a year and they walk hand in hand on the streets of Los Angeles. It's not known yet that their relationship is long-term or not, but there wasn't such a girl, who can charm Tom and to set a serious relationship with him. Ria can know something! Perhaps because of the 6 years age difference is so attractive in the half-Asian, semi-mature woman in the eyes of the 22 year old guitarist. Maybe most of the fans are grieved, but it was expected that Tom is slowly willing to commit himself because he said in a previous interview that he is lonely and doesn't enjoy one-night stands because their magic evaporates quickly, and it's followed by huge emptiness, and he feels that something is missing from his life.
Continuation…
Although the band is completely secluded from the world to work on the new album and the huge come back, but thanks to their previous works they can win awards, even if we can't hear much about them. The nowadays less-active band won the first place on the MTV New's Musical March Madness, thanks to their fans voting, they managed to beat famous rock bands. The twins to show their thankfulness sent a video message to their fans to render thanks for their voting.
Georg and Gustav are constantly commute between the two continents to record the new song, although they haven't said proper information about when the new TH album release, but Bill said that they definitely plan further performances in the USA, and in 2012 they would like to tour again in Europe.
Posted By bambi on July 1, 2012
Posted By bambi on June 28, 2012
Posted By bambi on June 19, 2012